The
utility shaft 9
is a location in
Chapter 2
from
Bendy and the Ink Machine
.
Background
Utility shaft 9 is the entrance Henry takes into the Music Department hall.
Gameplay
Behind the door of the room of the pentagram there is a ladder that when the player comes near a wood falls.
When descending the stairs the player finds the engraver of Sammy Lawrence and later a cutout of Bendy with a pentagram behind and the side of the cutout is the inky hall.
Trivia
The name is the meaning of the place, that titled "under construction".
From the first teaser of Chapter 2 it's shown to of gone under many changes from removal of the "IT'S TIME TO BELIEVE" text and changes of the Bendy head.
Towards the end of Chapter 1, the location from "Bendy's" flashback turns out to be the utility shaft.
Map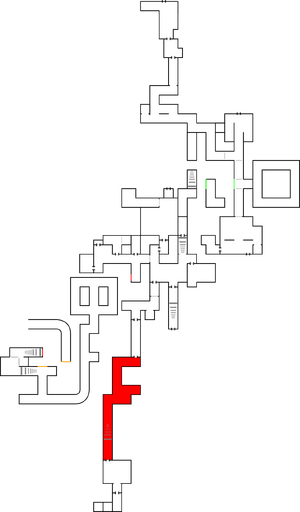 Ad blocker interference detected!
Wikia is a free-to-use site that makes money from advertising. We have a modified experience for viewers using ad blockers

Wikia is not accessible if you've made further modifications. Remove the custom ad blocker rule(s) and the page will load as expected.