Stairs has other meanings. See Stairs (disambiguation) for other uses.
"Looks like the stairwell is flooded. If I'm gonna find a way to get out of here, I need to find a way to drain it."
— Henry
The stairwell, also simply known as the stair, is a location from Chapter 2 in Bendy and the Ink Machine.
Background
The room consists of a single flight of stairs and a door that leads to the exit, with the stairwell flooded with ink. From the ceiling are few pipes.
It is also the place where the "POWER" switch is located, from the right side of the entrance. Additionally, a Searcher can be found here.
Gameplay
The main objective of Chapter 2 is to drain the ink leak in order to get to the exit. After draining the leak, while Henry's attempting to escape by walking straight to the stairwell, Sammy knocks him out from behind.
Trivia
If hacking by teleporting to the stairwell during the moment before Sammy sneaks and knock Henry out from the Music Department hall, it is obvious to see that the ink from the stairwell is still not drained, despite activating the pump switch from Sammy's office.
Map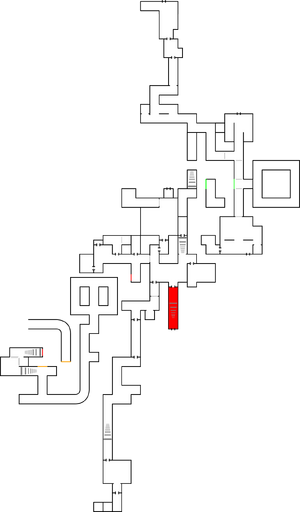 Gallery
Ad blocker interference detected!
Wikia is a free-to-use site that makes money from advertising. We have a modified experience for viewers using ad blockers

Wikia is not accessible if you've made further modifications. Remove the custom ad blocker rule(s) and the page will load as expected.