Sammy has other meanings. See Sammy (disambiguation) for other uses.
"Sing my song and my sanctuary will open to you."
— Sammy Lawrence's third audio log
Sammy's sanctuary, also known as just the sanctuary, is a location from Chapter 2 in Bendy and the Ink Machine. It is located from the recording studio.
Background
Sammy's sanctuary is a long hallway with shelves on both sides of the hallway. At the end of the hallway are a set of pipes, a valve, and a sign that says "FLOW".
Gameplay
The sanctuary is the first location where the valve switch can be found, and only accessible after Sammy's music puzzle has been solved.
After Henry activates the flow pump, several Searchers will spawn in the recording studio. Another one can spawn inside the sanctuary after Henry killing all of the Searchers in the recording studio.
Trivia
Opening the sanctuary by completing the music puzzle will unlock the "My Favorite Song" achievement, and even the "Strike Up The Band" achievement if bringing all nine Bendy cutouts to the band area of the recording studio.
Map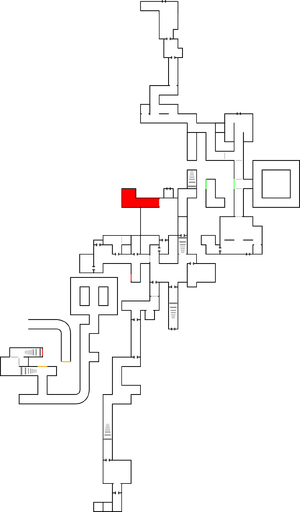 Audio
| | |
| --- | --- |
| Description | Audio |
| The sound produced when turning on the ink flow. | |
| The sound produced when Bendy pops out from behind the ledge. | |
Gallery