"On the plus side, I got a new character I think people are going to love."



This article refers an upcoming feature for the next chapter or update. The content may be inaccurate as well as containing spoilers and other speculations.
"The animations sure aren't being finished on time anymore, and I certainly don't see why we need this machine."



This article is considered as a stub. You can help the Bendy and the Ink Machine Wiki by expanding it until reaching at least or more than 1,000 bytes.
Thank you!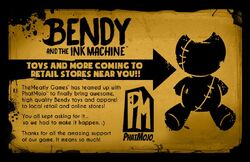 Known merchandise are coming soon in PhatMojo. There will be toys related to Bendy and the Ink Machine such as figures, plush toys, and key-chains. Its launch date remains unknown for now.
List
Gallery
Ad blocker interference detected!
Wikia is a free-to-use site that makes money from advertising. We have a modified experience for viewers using ad blockers

Wikia is not accessible if you've made further modifications. Remove the custom ad blocker rule(s) and the page will load as expected.