"The animations sure aren't being finished on time anymore, and I certainly don't see why we need this machine."



This article is considered as a stub. You can help the Bendy and the Ink Machine Wiki by expanding it until reaching at least or more than 1,000 bytes.
Thank you!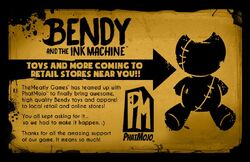 Known merchandise to Bendy and the Ink Machine are published by PhatMojo, including figures, building sets, hangers, etc.

Hangers/Blind-bags
Stores
Companies