"I'M ALICE ANGEL!"



Mini Workroom has not been given an official name. Thus, this name remain purely not canonical. Although this name will be used until an official name is released.
This article is about the location. For the other location with a similar name, see Workroom.
The
mini workroom
is a location from
Chapter 1
in
Bendy and the Ink Machine
.
Background
The room resembles a hallway. From the left side upon entering the hallway after from the Ink Machine room, there is a chair next to the desk with a cartoon sketch of Bendy's head, and "The Dancing Demon" printed from the wall. From the right side, there is Bendy's cutout leaning on the wooden wall with two projection wheels.
Gameplay
It is connected to between the hallways leading to the narrowed room and the hall to the projector room from the left, and double pathways to the break room (right) and Boris' room (left) from the right.
A few random items are:
Gear - Leaning against the fence next to Bendy's cutout.
Book - Laying on the left side of the desk and at the desk.
Record - On the floor next to the desk from the far right.
Trivia
From the prototype, there was a light from within the room behind the locked door. Attempting to open the door while searching for items to fix the Ink Machine suddenly causes the light to turn off.

From the remastered updates, however, the light from behind the locked door was removed.
Map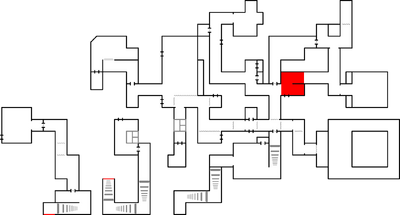 Audio
| | |
| --- | --- |
| Description | Audio |
| The prototype sounds of wooden plank falling. | |
Gallery
Ad blocker interference detected!
Wikia is a free-to-use site that makes money from advertising. We have a modified experience for viewers using ad blockers

Wikia is not accessible if you've made further modifications. Remove the custom ad blocker rule(s) and the page will load as expected.