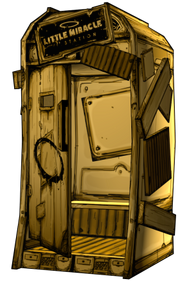 The Little Miracle Station is a hiding spot first added to Chapter 3 from Bendy and the Ink Machine.
Description
It is a closet resembling an outhouse. The front wooden door is printed with a halo drawn with ink, presumed to be Alice Angel's halo. It also has a sign that reads "Little Miracle Station" with another halo above it.
The inside is very blank with a small ledge near the bottom, presumably for storage or sitting on, and with a metal plate tilted on the wall like a changing room.
Gameplay
Several of the stations appear constantly throughout Chapter 3, and can be utilized by Henry to hide from any attackers, most notably "Bendy" and the Projectionist.
For common enemies, hiding inside the Little Miracle Station will cause the "Butcher Gang" enemies (mainly Piper, Fisher, and Striker) to walk away, and the Searchers disappear into ink.
Gallery
Ad blocker interference detected!
Wikia is a free-to-use site that makes money from advertising. We have a modified experience for viewers using ad blockers

Wikia is not accessible if you've made further modifications. Remove the custom ad blocker rule(s) and the page will load as expected.