"I'M ALICE ANGEL!"



Ink Pool has not been given an official name. Thus, this name remain purely not canonical. Although this name will be used until an official name is released.
Ink has other meanings. See Ink (disambiguation) for other uses.
The ink pool is a location from Chapter 2 in Bendy and the Ink Machine.
Background
It is a large room with the floor filled with ink, forming into a pool. The room also consists of barrels, wooden planks as poles, and a locked door up ahead.
Gameplay
Following the exit from the ritual room and breaking some wooden boards with the axe along the way. Approaching this room will cause "Bendy" to pop out before the chase begins, forcing Henry to run for the maze of corridors.
If Henry walks backwards to the locked door to prevent "Bendy" from popping out, then stand idle for a bit, a whistle from the unknown person can be heard. Besides the whistle, Henry can hear what seems like gears grinding from the Ink Machine itself.
Trivia
The whistle is heard from throughout Chapter 2's teaser trailer.
Map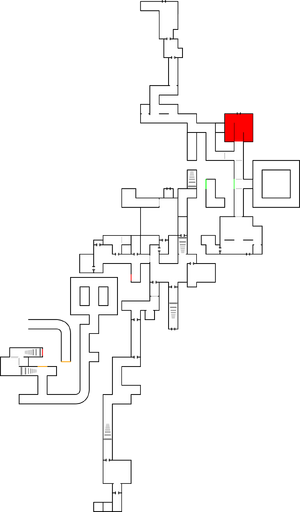 Audio
| | |
| --- | --- |
| Description | Audio |
| The presumed sound of the Ink Machine and whistle heard from behind the door. | |
| The sound produced for when "Bendy" is appearing from the ink, a faint voice can be heard saying "Let me in". | |
| The sound produced for when "Bendy" is trying to break down the door after he is locked out at the end of Chapter 2. | |
Gallery
Ad blocker interference detected!
Wikia is a free-to-use site that makes money from advertising. We have a modified experience for viewers using ad blockers

Wikia is not accessible if you've made further modifications. Remove the custom ad blocker rule(s) and the page will load as expected.