"I'M ALICE ANGEL!"



Hall Closet has not been given an official name. Thus, this name remain purely not canonical. Although this name will be used until an official name is released.
This article is about the location. For the other location with a similar name, see Projector Closet.
"So I was going to get my dustpan from the hall closet the other day, and guess what? I can't find my stupid keys."
— Wally Franks' second audio log, Chapter 2
The hall closet, also known as Wally's closet or simply just closet, is a location in Chapter 2 from Bendy and the Ink Machine.
Background
It is a small closet with three shelves. It contains a cassette tape with another voice recording from Sammy Lawrence, some non-lighted candlesticks, a bowl of spheres, and four obtainable cans of Bacon Soup.
Gameplay
Wally mentions in his second audio log that he cannot find his keys anywhere before opening the closet's door for the dustpan.
The closet can be only opened with a key which can be found from one of the garbage cans. After finding the keys and opening the closet, Henry will find a voice recording of Sammy Lawrence, which gives him a hint about the upcoming music puzzle.
Trivia
Although, despite Wally's mention about a dustpan in the hall closet, there is no actual sign of one. However, it may just happen to be an oversight by developers.
Map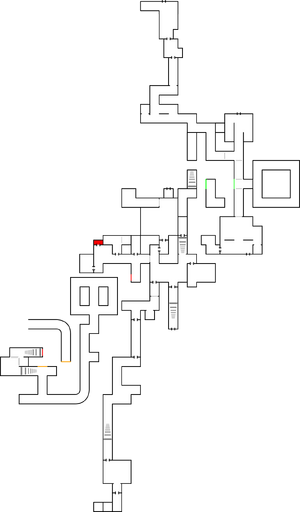 Gallery
Ad blocker interference detected!
Wikia is a free-to-use site that makes money from advertising. We have a modified experience for viewers using ad blockers

Wikia is not accessible if you've made further modifications. Remove the custom ad blocker rule(s) and the page will load as expected.