This article is about the item. For the related item, see Special Gear.
The gear is an obtainable item from Chapter 1 and as an unobtainable item in Chapter 3 of Bendy and the Ink Machine. It later appears as obtainable again in Chapter 4.
Description
It is a gear colored light tan and marks on the gear imply that it is made of metal.
Gameplay
The gear is one of the six items needed to fix the Ink Machine. The gear can be found in the chest on the Ink Machine room balcony.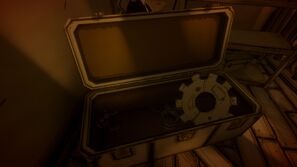 The gears can be seen lying around all over the place, although unobtainable. There are, however, special gears that are needed to be collected.
The gear is one of the objects that the Ink Maker can print. In the "Repair The Bridge" objective, the gear must be printed to fix the cart for Henry to across to the other side. Two can also be found in front of Henry at the very start, in Accounting & Finance.
Trivia
The gear resembles the pre existing gears used for the Ink Machine.
Audio
| | |
| --- | --- |
| Description | Audio |
| The current sound produced when the gear is collected. | |
| The sound produced when placing the gear on the pedestal in the break room. | |
| The old sound produced when the gear is collected this is similar to the wrench. | |
Gallery