| | |
| --- | --- |
| | Take the lift down to see your old friend, but beware! Therefore this article may contain spoilers remain unmarked! Do not go any further if you choose not to read or view spoilers before playing the game first. |
| | |
| --- | --- |
| | This Costume Closet whatchamacallit does not have an official name. Thus, this name will remain not canonical until the official name is confirmed. |
The costume closet is a location connected to the Storage 9 warehouse from Chapter 4 of Bendy and the Ink Machine.
Background
The small room consists of a table, a wooden chair, a stool, a shelf, and the gear sign printed on the wall. There are three slightly eerie-looking Bendy costumes hanging by the hangers (though, the costumes are not wearable), with the middle having the face splattered by ink.
On the floor is a Bendy mask, a glove, and two large boots.
Gameplay
This location is where the first handle lever is found, and only accessible when completing two of the minigames at Storage 9.
Trivia
Map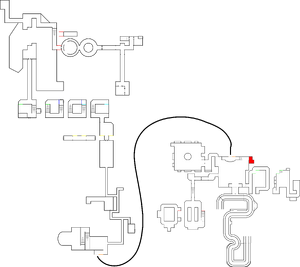 Gallery