Welcome to the collaborative, informative Wiki about the indie episodic horror game Bendy and the Ink Machine! Read at your own risk, therefore the Wiki may contain major spoilers!
We are currently maintaining 219 articles and 1,661 files since February 15, 2017, and we're counting on you to help!
Our today's date is October 23, 2017.
To join the Wiki and be a part of the community, please sign up to create a personal account for free, or just log in if you already have one.
If you are new to this Wiki, please follow these simple rules before getting prepared:
About | Rules and Guidlines | Manual of Style
If you are here to help with clean-up, you can use these:
Wanted pages | Orphaned pages | Dead-end pages | Broken redirects | Double redirects
If you are wondering about the game's Reddit site, visit here!
If you have Discord, join the official BATIM Reddit server here!
"Bendy and the Ink Machine™" (BATIM) is an episodic first person puzzle action horror game that begins in the far days past of animation and ends in a very dark future. Play as Henry as he revisits the demons of his past by exploring the abandoned animator's workshop of Joey Drew Studios. With twists and turns around every corner, "Bendy and the Ink Machine" is sure to thrill you... and decimate your childhood. You'll never look at cartoons the same way again.
Want to discuss, ask something, or roleplay? For any questions, discussions or anything else check out our Discussions!
How was Chapter 3 along with the update for each previous two chapters?
View all polls at the Poll Archive.
Create blog post
Blogs
I just found this message in Chapter 3.

What does this mean? Is Meatly trying to tell us something?

https://i.imgur.com/PZnUOHD.gifv

Read more >

Just saying.

I hope things are going ok, and it shouldn't take as long either... working on a hit game with a large, kinda crazy fandom that constantly demands more must be really stressful... same th…

Read more >
See more >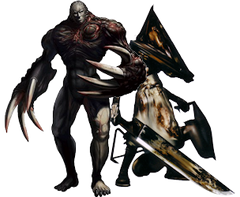 Horror Games
Go to these sites for info or for help with your own wiki!
Alan Wake • Alice • Amnesia • Bendy and the Ink Machine • Bioshock • Clock Tower • Dead Space • DreadOut • Fatal Frame • Five Nights at Freddy's • FNaF: Sister Location • The Last Door • Lost Alpha • Outlast • Resident Evil • Silent Hill • SOMA • Spooky's House of Jump Scares • S.T.A.L.K.E.R. • Tattletail • The Evil Within • Until Dawn • White Day • Yume Nikki
Want your community included? See how!

Ad blocker interference detected!
Wikia is a free-to-use site that makes money from advertising. We have a modified experience for viewers using ad blockers

Wikia is not accessible if you've made further modifications. Remove the custom ad blocker rule(s) and the page will load as expected.