"Above all, fear the machine and survive."
Welcome to the collaborative Wiki about the indie episodic horror game series Bendy and the Ink Machine! Please keep in mind that the Wiki may contain spoilers! Read at your own risk.
We are currently maintaining 94 articles and 505 files since February 15, 2017, and we're counting on you to help!
To join the Wiki and be a part of the community, please sign up to create a personal account for free, or just log in if you already have one.
If you are new to this Wiki, please follow these simple rules before getting prepared:
About | Rules and Guidlines | Chat Rules | Manual of Style
If you are here to help with clean-up, you can use these:
Wanted pages | Orphaned pages | Dead-end pages | Broken redirects | Double redirects
If you are wondering about the game's Reddit site, visit here!
If you have Discord, join the official BATIM Reddit server here!
Bendy and the Ink Machine is a first-person puzzle action horror game with downloadable episodes. It begins in the far days past of animation and ends in a very dark future. Its art-style is heavily inspired by Disney's Mickey Mouse cartoons in the 1920's and 1930's.
Want to discuss, ask something, or roleplay? For any questions, discussions or anything else check out our Discussions!
Who's your favorite cartoon character from Bendy and the Ink Machine so far?
Create blog post
Blogs
Hello Everybody!!!

Has anyone ever wondered about it??? Before we start the main power at the entrance to Ink Machine Room we don't see any footprints, but when we start the main power and we go there…

Read more >

At the end of chapter one you see the machine,a wheel chair,and most important to this theory...Bendy.It can tell us that there was a incident causing the ink machine to cause someone to die and this…

Read more >

Hello guys! This is a blog post that I intended to make a while ago, but never got around to do it.

We all know Boris, the loveable Cartoon Wolf who is first shown as a torn open carcass strapped to a…

Read more >
See more >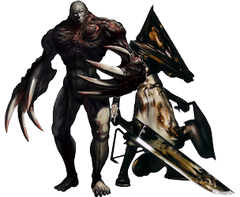 Horror Games
Go to these sites for info or for help with your own wiki!
Alan Wake • Alone in the Dark • Alice • Amnesia • Bendy and the Ink Machine • Bioshock • Clock Tower • Dead Space • DreadOut • Fatal Frame • Five Nights at Freddy's • FNaF: Sister Location • Lost Alpha • Outlast • Resident Evil • Silent Hill • SOMA • Spooky's House of Jump Scares • S.T.A.L.K.E.R. • Tattletail • Until Dawn • White Day • Yume Nikki
Want your community included? See how!

Ad blocker interference detected!
Wikia is a free-to-use site that makes money from advertising. We have a modified experience for viewers using ad blockers

Wikia is not accessible if you've made further modifications. Remove the custom ad blocker rule(s) and the page will load as expected.