Welcome to the collaborative, informative Wiki about the indie episodic horror game series of Bendy and the Ink Machine! Read at your own risk, therefore the Wiki may contain major spoilers!
We are currently maintaining 398 articles and 4,251 files since February 15, 2017. Anyone is free to edit, so we're counting on you to help!
Today's date is October 15, 2018.
"Bendy and the Ink Machine™" (BATIM) is an episodic first person puzzle action horror game that begins in the far days past of animation and ends in a very dark future. Play as Henry as he revisits the demons of his past by exploring the abandoned animator's workshop of Joey Drew Studios. With twists and turns around every corner, "Bendy and the Ink Machine" is sure to thrill you... and decimate your childhood. You'll never look at cartoons the same way again.
Create blog post
Blogs
Our story begins with Grant Cohen sitting at his desk, trying to calculate Bendy Land's finances. He is visibly upset, as the taxes placed before him are incalculable. Suddenly, he hears a voice over…

Read more >

So... everyone's seen what Bendy, Alice, Boris, and the Butcher Gang look like. But how would you guys describe the human characters in Bendy and the Ink Machine, like Henry or Joey? Tell me in the c…

Read more >

hi there! I'm Liziy,Liziy the demon! please replie or folow me. hears what I look like.

Read more >
See more >
Who is your favorite corrupted version of one of the Joey Drew Studio's famous toon trio?
View all polls at the Poll Archive.
Official Social Medias

| | | | |
| --- | --- | --- | --- |
| | | | |
| Website | Twitter | Facebook | YouTube |
Communities
| | |
| --- | --- |
| | |
| Reddit | Discord |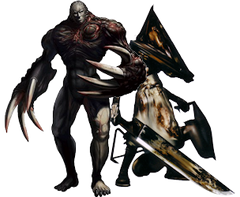 Horror Games
Go to these sites for info or for help with your own wiki!
Agony • Alice • Alone in the Dark • Amnesia • Bendy and the Ink Machine • Bioshock • Clock Tower • Dead Space • Fatal Frame • Five Nights at Freddy's • FNaF: Sister Location • Ib • Lost Alpha • Outlast • Resident Evil • SCP: Containment Breach • Silent Hill • SOMA • Spooky's House of Jump Scares • S.T.A.L.K.E.R. • The Evil Within • Until Dawn • White Day • Yomawari • Yume Nikki
Want your community included? See how!
See all of our Horror gaming wikis!

All textures, audio files, and models each goes to respective developers of both Joey Drew Studios Inc. and Kindly Beast. No copyright intended.