Bendy has other meanings. See Bendy (disambiguation) for other uses.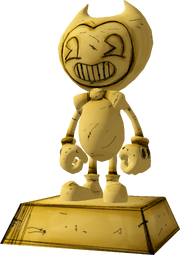 The statue of Bendy is an object-like mechanic first introduced in Chapter 2, 3, and 4 of Bendy and the Ink Machine. It serves as a respawning point after death.
Gameplay
Whenever Henry gets killed by the enemies including "Bendy", Searchers, Piper, Fisher, Striker, or the Projectionist, he will respawn next to the Bendy statue.
Trivia
Before the statue of Bendy is planned, the respawning pentagram is the first early respawn point before Chapter 3's release.
Audio
| | |
| --- | --- |
| Description | Audio |
| The sound produced when Henry respawns. | |
Gallery